Archive : Applications notes
avril 24, 2020
Undress your Waste to Give to its Components a Second Life with High Added Value: Solar Pannel Recycling
The societal, economic and environmental challenges of the beginning of the 21st century compel us to develop a sustainable consumption system such as that of the circular economy. In order to promote this business model, it is essential to promote the efficient use of resources, to improve the recyclability of materials, and to consider the life cycle of products placed on the market. In order to reduce the geopolitical tensions associated with the supply of raw materials as well as the environmental pressure linked to their extraction, it is necessary to consider the complex mixture of waste in the same way as ores. However, the complexity of the waste makes the extraction of materials of interest more difficult than that proceeded on the oressolar pannel desencapsulation-reenmat.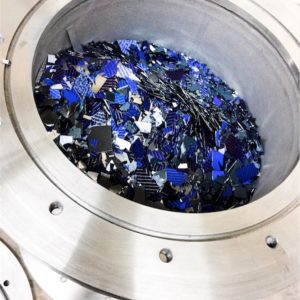 Voir l'application note
août 16, 2018
From micronic particles to milimetric granules using granulation process
A powder is a material composed of fine solid particles. These particles can vary in size and shape and generally consists of a wide particle size distribution that is inherent to the production mode employed and leads to a non-uniform final product.
The finer the particles are, the more hazardous they are and their manipulation requires the use of fumehoods and adequate personal protection equipment such as FFP2/FFP3 protection masks. This hazard also impacts the transport procedures from the manufacturer to the final user. So, one can be interested in reducing the volume of fine particles in the product.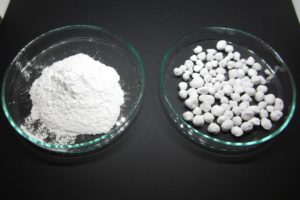 Voir l'application note